Searching for a quaint home that's off the beaten path, where no one can hear you scream? This one's for you: a $125,000 three-bedroom for sale on the 3516 Interstate Highway near Baird, Texas, is an "established and running haunted house".
The spooky home went viral last week after Steven Dennis, a Bloomberg reporter who often chronicles the ups and downs of Zillow on Twitter, posted photos from the listing.
There's not much to see upon first glance: it's a white, ranch-style cinderblock home with a big front yard. But head inside (if you dare), and you'll find doorways shaped like coffins, skeletons hanging from the ceiling, and creepy portraits of 19th-century families on the walls. The living room doubles as a funeral home, with an open casket, wreaths of dead flowers, and a few more skeletons for the ambience.
Another room comes furnished with "a gurney to perform late-night surgeries".
Make your way into the backyard and you're greeted by a rickety hay stand, abandoned school bus, and small barn. That last locale is guarded by what appears to be the skeleton of a young Victorian child.
The property looks this way because it's also known as Thirteen Vultures, a haunted house run by Clu Burnham and his wife. The pair bought it in 2015, and while Burnham said business had remained steady, the pair wants to retire.
According to its very fictional website, the attraction was once owned by two brothers, Bo and Lester. Bo worked as a butcher, but Lester was fascinated with death and became the town's funeral director. You know where this is going: customers would complain of "strange-tasting steaks and unusual cuts of meat bought at Bo's shop". Now the ghosts of all the cannibalized corpses haunt the grounds.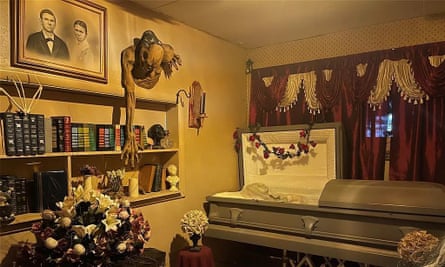 It's a tale worthy of a slasher film. But in real life, Burnham said the haunting felt more subtle. "Some people say they feel a presence in the house, and we've had some photos show up with orbs," he said.
Tina Irias, the real estate agent in charge of the listing, met the Burnhams when they were selling a previous home years ago. The couple warned Irias that they "loved Halloween" and to expect decor.
"I went in thinking, OK, some pumpkins," Irias said. "It was not pumpkins. They had a skeleton in the bathtub, a Chucky doll in the corner, a headless doll, things like that." She advised the couple to pack up the props before the photographer came to take viewing photos. They did not.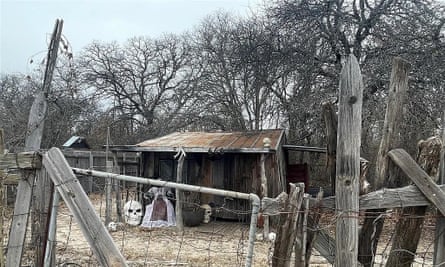 "I thought, what am I going to do? But then we got multiple offers in the first day," Irias said.
This time around, Irias – who hates haunted houses – decided to lean into the aesthetic. "So when I was writing the listing description, I thought, if you can't beat 'em, join 'em," she added.
Though the house has not sold yet, Irias has fielded offers. "One of the buyers' agents told me during the tour that she has a good intuition about haunted houses, and she doesn't feel creeped out in there," Irias said.
Though Texas sellers do not legally have to disclose whether a house is haunted, homeowners in four states (New York, New Jersey, Massachusetts, and Minnesota) do. One well-known 1991 New York appellate case found that an owner who publicized her house's paranormal activity in magazine articles should have told its eventual buyer about the poltergeist, too. In its decision, the court wrote: "As a matter of law, the house is haunted."