7 min read
Whether it's for extended families or rentals, dual key units are one way to split your property and avoid the Additional Buyers Stamp Duty (ABSD). There is, however, a wide range of dual-key layouts; and not all are equal. Some are better for own-stay use, others for taking on tenants – and as most seasoned investors can tell you, a higher price per square foot is a common issue. Here's what to consider when picking your unit:
A quick run-down of dual-key units
Dual key units are individual properties, which have been subdivided into two. Both halves of the property can be inhabited, with residents having little to no direct contact. In this sense, a dual-key unit is a bit like a condo version of a semi-detached house. 
Dual key units are commonly pitched as a way to avoid ABSD. This is not literal: you would still pay ABSD if a dual key unit is your second, third, or subsequent property. The idea is simply that a dual-key unit saves you from having to buy two different properties. 
That said, not all condos have dual key units, even if they were very popular at one point. As and when they exist, dual key units tend to make up only a small portion of the available units. The variances between these units can be huge (e.g., a dual key unit can be a two-bedder, or it can be as big as a four or even five-bedder). 
Most dual key units cost more per square foot than their usual counterparts, but the degree of price difference varies greatly between projects. 
We've done a comprehensive list of 121 dual key condos before, but if you are looking for something more recent, here's a list of new launch condos with dual-key units:
Project
Unit Type
No. of Units
Min size
(sq ft)
Max Size
(sq ft)
120 Grange
2-Bedroom Dual Key
24
678
678
35 Gilstead
2-Bedroom Dual-Key
1
700
700
Blossoms By The Park
3 Bedroom Dual Key
50
915
1022
Carpmael Thirty-Eight
2-Bedroom Dual Key
2
721
721
Enchante
3 Bedroom Dual Key
7
1087
1087
Forett At Bukit Timah
3 Bedroom Dual Key
29
1033
1195
Gems Ville
3-Bedroom Dual
6
1216
1216
Haus On Handy
3 Bedroom Dual Key
6
980
980
Infini At East Coast
3-Bedroom Dual Key
8
1066
1066
Infini At East Coast
4-Bedroom Dual-Key + Store
8
1249
1249
Jervois Mansion
4 Bedroom (Dual-key)
5
1475
1475
Jervois Mansion
5 Bedroom (Dual-key)
5
1808
1808
Jervois Treasures
3-Bedroom Dual-Key
1
1227
1227
La Mariposa
4 Bedroom Dual Key
3
1345
1345
Neu At Novena
3 Bedroom Dual Key
14
818
818
Park Colonial
2 Bedroom Dual Key
15
743
958
Parksuites
2 Bedroom Dual Key
22
1098
1227
Parksuites
3 Bedroom Dual Key
16
1389
1475
Piccadilly Grand
4 Bedroom Dual Key
41
1378
1658
RV Altitude
2 Bedroom Dual-Key
40
624
635
RV Altitude
2-Bedroom Dual Key
20
635
635
Rymden 77
3 Bedroom Dual Key
3
1119
1141
Rymden 77
4 Bedroom Dual Key Penthouse
1
1948
1948
Seaside Residences
2-Bedroom Dual Key
23
829
980
Sophia Regency
2-Bedroom Dual Key
4
861
861
Sunstone Hill
2 Bedroom Dual-Key
14
840
915
Sunstone Hill
3 Bedroom Dual-Key
2
1356
1356
The M
3 Bedroom Dual Key
17
904
1012
The Tapestry
4 Bedroom Dual-Key
15
1485
1668
The Tapestry
4-Bedroom Dual Key
15
1485
1668
The Tapestry
5 Bedroom Dual-Key + Study
15
1765
1991
The Tapestry
5-Bedroom Dual Key
15
1765
1991
Uptown @ Farrer
4 Bedroom (Dual Key)
8
1033
1033
Verticus
2+1 Bedroom (Dual Key)
3
1163
1163
Verticus
Penthouse 2+1 Bedroom (Dual Key)
1
1378
1378
Whistler Grand
3 Bedroom Dual-Key
35
990
1098
Whistler Grand
4 Bedroom Dual-Key
31
1270
1378
Zyanya
3 Bedroom + Study (Dual Key)
5
1023
1023
What to look out for in dual-key unit layouts 
Utilities vs. living space 
Upstairs and downstairs, or side-by-side
Which utility rooms are shared 
Overall shapes of the rooms
Flexibility for future renovations 
1. Utilities vs. living space
The main difference between dual key units and regular units is the doubling of utility rooms. A split unit, for instance, requires an additional kitchen, additional toilet, duplicate storage spaces, and so forth. Do remember that the kitchen space for the smaller unit is almost always more of a kitchenette/pantry rather than a proper kitchen – so there will have to be some compromise there.
This duplication means the square footage of dual key units can be misleading. You can end up with much smaller living rooms, bedrooms, and studies after the added utilities. E.g., a 1,000 sq. ft. dual-key unit may have 600 sq. ft. of actual living space after the extra utility rooms, whereas a regular 1,000 sq. ft. unit in the same project may have 700+ sq. ft.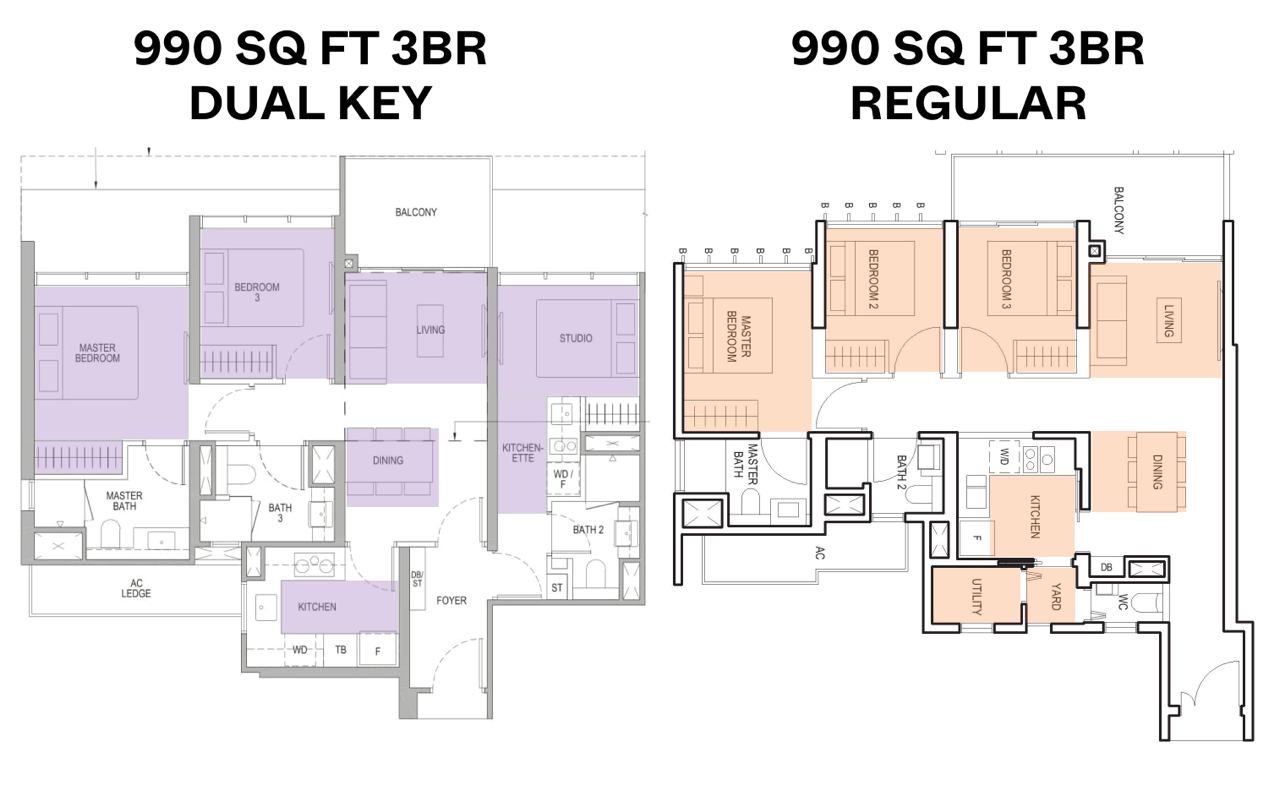 When picking a unit, it's important to ensure you're happy with the distribution of utility to living space. If your purpose is to house an extended family (e.g., your parents are moving in with you), consider if more living space would trump the added privacy of a dual-key unit. 
(Don't forget that a similar-sized, normal unit is also likely a bit cheaper). 
2. Upstairs and downstairs, or side-by-side
Some dual key units are arranged such that the top and bottom floors are well divided. In these cases, your tenant can live upstairs or downstairs, while you take the other floor. 
More dual key units, however, are arranged to be side-by-side. A common setup is to have a joint entrance, with two doors leading to subdivided units.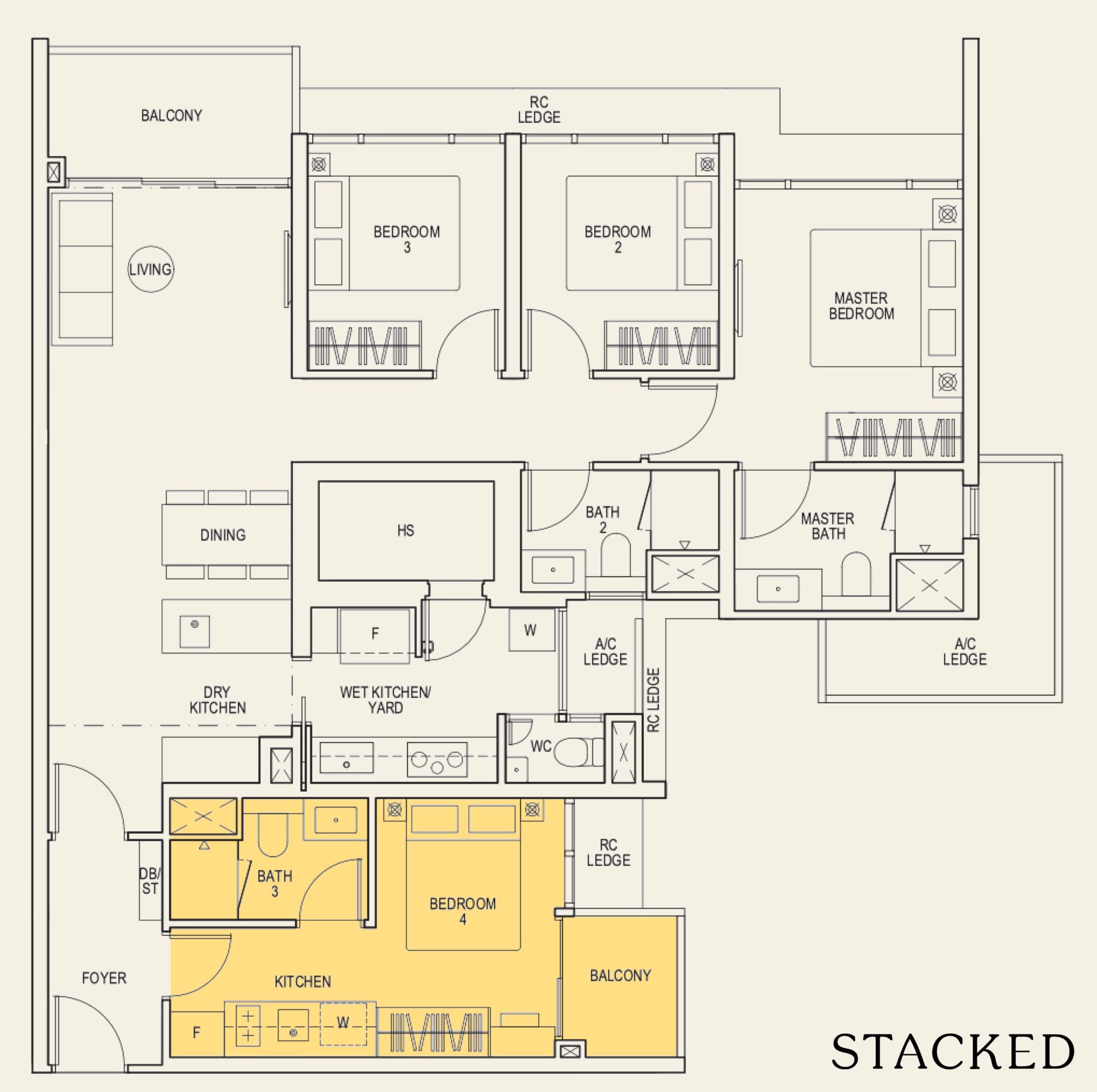 In general, most buyers seem to prefer the side-by-side layout. This is simply to spare one set of residents the trouble of having to walk upstairs. This is also true for extended families, where owners may not want elderly parents to have to walk upstairs to visit them. 
However, some buyers may feel that an upstairs and downstairs unit offers a greater degree of privacy; and in some layouts, it's even possible for a tenant and landlord to enter these respective units without seeing each other. 
3. Which utility rooms are shared
Some dual key units compromise a bit on the degree of separation. In some layouts, for instance, there is a shared kitchen rather than separate small pantries. This may be a better setup for extended families, where meals are still shared even if living spaces aren't. 
There are also some layouts that, with the renovation and movable walls (see below), have allowed the joining of certain rooms (e.g., shared dining room). 
This is where landlords and family units differ. Whilst extended families may want to share some spaces, landlords usually want the highest degree of separation possible – especially if they intend to have unrelated tenants in both halves. 
4. Overall shapes of the rooms
Dual key units necessarily lose some efficiency due to the sub-division, but some may end up with the occasional odd-shaped room. Ideally, you still want all the rooms to be squarish, if for nothing besides interior design simplicity.
Rooms that are wedge-shaped, too long and narrow, or round can be problematic and uncomfortable later. It's generally better to have squarish rooms, than to have rooms with more square footage but are odd-shaped (all the nooks and crannies are probably not usable spaces anyway). 
5. Flexibility for future renovations
Do check which walls are movable, and which are not. Ideally, a dual key unit is so flexible that you can even demolish the subdivision later, and merge it into a regular unit (but this is a tall order in many projects).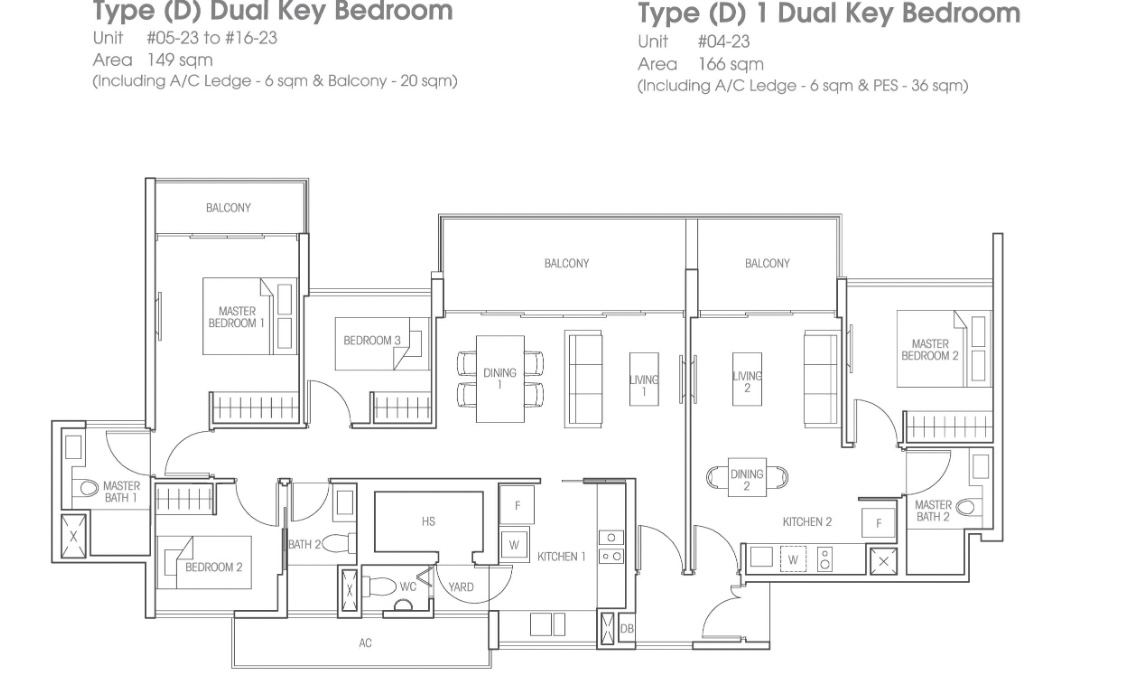 At the very least, check if you have the leeway to merge certain rooms later. These can allow your unit to appeal to a different demographic (e.g., extended families rather than just landlords), at the point of resale. For genuine homeowners, this also helps in the later change of life circumstances (e.g., you want to look after ageing parents more closely, and would prefer they aren't isolated in the sub-unit). 
As this is complex to estimate on your own, we suggest speaking to a contractor or Interior Designer regarding the floor plan. 
If you're in doubt, you can also reach out to us at Stacked. We'll keep you up to date on various conventional and dual-key units in the market, and provide reviews of new and resale properties alike.